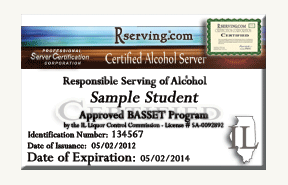 The BASSET Certification Program is aimed at preventing drunk driving by informing bartenders, sellers, and servers of the laws regarding alcohol service in Illinois. The

Basset certification course offered by PSCC will provide bartenders, sellers, and servers with an IL BASSET approved training course.


Upon completion of this short course, you will be able to print your certificate online or PSCC can send your certificate to you in the mail.

After you enroll in the course, you will receive a username / password by email which will allow you to access the course online. You can go through the course immediately and you can also log in and out of the course as you'd like so you can take the course all at once or in shorter sessions.


3 easy steps to get your state bartender license or permit to sell/serve alcohol:
Order your "IL Responsible Serving Course"

Only 8.99!

Take the course online at your leisure
Print your official certificate online instantly

For more information on PSCC's training courses visit:
---
Professional Server Certification Corporation
PO Box 192
Madison, SD 57042
1-800-432-4192
Contact Us